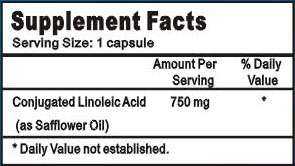 Conjugated linoleic acid (CLA) is a naturally occurring fatty acid. By suppressing lipoprotein lipase, CLA helps reduce the amount of fat deposited and stored throughout the body, burns more fat calories, resulting in natural slimming. It¡¯s a safe and effective weight loss aid containing no harmful stimulants.
CLA can be extracted from sunflower and safflower oil. Making CLA from sunflower is much cheaper than safflower, however we only use safflower because there are more active CLA in safflower.
Suggested Use: Take two soft gels at least three times daily.