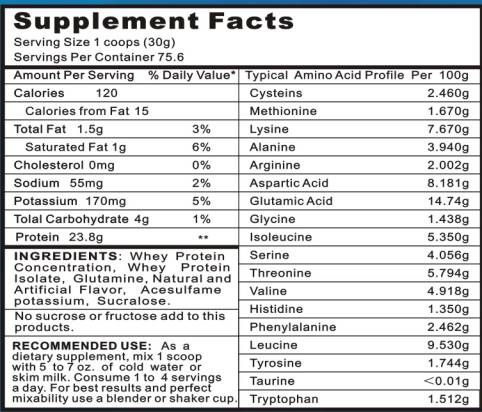 Are you looking to gain muscle and lose fat? ELIXIGEN brings you the newest concept in muscle development. ELIXIGEN's 100% whey protein is a natural way and nutrition method for muscle gain and fat loss. Only ELIXIGEN's 100% whey protein delivers the maximum value and highest quality you'd expect in a protein powder.
Sufficient and proper whey protein intake is the most important nutritional key to build perfect muscle balance for all bodybuilders and athletes. ELIXIGEN's 100% whey protein becomes the first and the best choice, because Elixgen's state of the art, low temperature micro-filtration process yields a whey protein concentrate containing the highest biological values you can find in a protein supplement. ELIXIGEN's 100% whey protein provides the branched chain amino acids (BCAA's) that are important in the building and retention of lean muscle and decreasing fats.
Build your rock-solid muscle and lose fat with number 1 ELIXIGEN's 100% whey protein. Its formulation is scientifically designed to deliver full spectrum protein fractions and microfractions. And moreover, this microfiltered whey is very easy to digest and therefore reach the highest biological value for the body. Product potency and purity are 100% guaranteed to insure you the best in quality and nutrition. ELIXIGEN commits to your satisfaction.
Suggested Use: As a dietary supplement, mix 3 scoops with 5 to 7 oz. Of clod water or skim milk. Consume 1 to 4 servings a day. For best results and perfect mixability use a blender or shaker cup.